The wonderful and evocative African continent is the backdrop to the story of Lorenzo, who ventures into Cape Town and experiences the thrill of hunting the black buffalo.
They call it in many different ways, but I prefer to call it simply African buffalo, because it is the name that gives that elegant buffalo with its characteristic black color all the grandeur and pride it deserves.
I had been planning a long, long time to plan a trip to Cape Town with a dear childhood friend, a lover of hunting like me, and two years ago the right opportunity arose. I got some extra income, and I decided to give myself a gift, booking 5 hunting days in a wonderful South African reserve.
I'm not even going to tell you about the impatience that took me from the second following the booking. To kill the wait for the fateful week, I thought I'd get to know the African buffalo perfectly, its habits, its habitat. On the other hand I know deer and wild boar well, but I had never seen buffaloes before.
I discovered that it is a species that lives exclusively in sub-Saharan Africa, and that it prefers to live in the sunny and desolate savannas. Looking at the photos that portray him in millions of different poses (on the internet you can literally find everything), I got a vague idea of ​​the beast that I would soon find myself in front of: a mighty and squat creature, which can reach also the meter and eighty of height at the withers and a weight that in rare cases reaches the ton. In short, a black and angry boulder. Thrilling.
To defend himself he uses the cephalic shield, to be clear those fabulous horns that nature has endowed him with, heavier in the male than in the female, and as far as one might think, it is a herbivorous mammal. The females live in numerous herds, while the males are more solitary and live isolated for a long time. They only come back in packs during the mating period.
Its character is described as so aggressive that in more than one case it has also been able to face the attacks of the lions and there have been not a few hunters, even experts, who have lost their lives trying to hunt this mammoth beast. Exciting I think, but since I'm not a fool, I informed myself about every risk and danger, sharing it with Oscar, my adventure companion, an expert in hunting big game who accepted the challenge.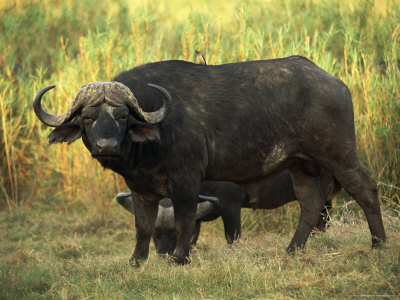 This sense of danger did not leave us even once we reached the Cape Town game reserve. Everything was almost as I imagined, only a thousand times more suggestive. In Africa the noises are louder, the scents more intense, the emotions I experienced all deeper and at night the hunters gathered around small fires and the veterans told their experiences over a good glass of wine. We made some beautiful friends during those days. The same story always came out of the stories: that the buffalo is the most powerful and dangerous mammal in the entire African continent, and that the lion gives him a mustache. It is so dangerous because its appearance as a quiet herbivore can be deceiving. They are unpredictable and really to be feared when cornered.
It is absurd to think that a tale of this kind excites and stimulates five-star hunters; I have always thought that our category does not have all the wheels in place.
That night I slept like a log unlike Oscar who was fantasizing for hours with the result being a ghost the next morning. Blessed coffee, it woke us both up, poked by that general excitement that reigned.
We got on some off-road vehicles and went to reed fields, all tall grass and thick vegetation. Lonely places, forgotten by God, in which the buffalo seems to be very happy.
Divided into groups we got lost in the tall vegetation, led by the expert guide, a big man of the place who knew exactly what he was doing and kept an eye on the situation. More than once I had the feeling of being within walking distance of a buffalo, but a good part of the morning went without anything.
Suddenly the guide opens the way through a lowveld bush, all soft vegetation, whispering to us that he has spotted a beautiful male specimen that has separated from the group. So my feelings all morning were justified ...
In addition to the surroundings, it is essential to know how to read the tracks to hunt buffaloes, and our guide has proved truly exceptional on more than one occasion. I learned a lot from his company, and I can confirm that there are very few old school masters like that.


More or less silently we managed to emerge at a small stream, the guide advised us to go up it with caution: the footprints do not lie and they were telling us that the buffalo was there, somewhere in front of us.
Our visibility was greatly reduced due to the presence of the tall rods, and the proximity of that potentially deadly opponent put an unforgettable adrenaline in my body.
In a few minutes the guide worked out a rather simple plan: he would have positioned himself on a small hill nearby to keep an eye on the movement of the reeds, all within range, we would have immersed ourselves in the reeds.
And so he did, and from above with his stick he indicated the position of the buffalo. I had the feeling of being a small, soft lamb going to visit the wolf in its lair. At a certain point the guide, which we could see very well, began to wave his cane and a short distance away I perceived the trampling of hooves that were coming towards me.
I knew perfectly well that this was the decisive moment and losing my temper would be a fatal mistake. After a few seconds I began to glimpse that amazing animal, which had sensed my presence but did not know exactly where I was. I understood this from its not very straight gait.
I aimed precisely at the back of the head and fired without hesitation, which are the ones that ruin the hunt. That majestic specimen of buffalo immediately fell to the ground and I breathed a sigh of relief. Approaching the animal I have long admired its elegance and pride. They are mammals that deserve all the respect of the hunter, and buffalo hunting is one that makes you grow.