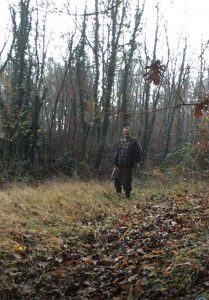 My Uncle Giuliano, known as "Samson". This is a big man of enormous size, full of energy, tireless and, despite being over sixty, has a thick hair just graying: therefore he was given this nickname. Sansone has a small farm, thanks to which, with efforts and sacrifices, he managed to bring his five daughters to graduation. He is considered the last champion of fox hunting in the area and has introduced me, since I was a child, to this particular form of art now obsolete which, however, brings great benefits to the small poultry farmers in the area. wild red bogeyman. Uncle Sansone has been practicing this hunt for at least 40 years in the areas around his house, in formations of up to four or five people that surround the many "trowels" - thorn brambles - which the area is scattered with. For at least fifteen years he has had a pack of beagle whose progenitor is Rondinella, a splendid small white specimen that at sixteen still ardently followed!
One mild October morning, at the dawn of the hunting season, three of us go out: Uncle Sansone, an eighty-year-old friend of his, Alfonso and myself. Alfonso brings with him his two Maremma hound puppies: a male and a female who do not listen to him at all. As soon as we arrive at a pitch that rests on a hollow between two hills, Alfonso opens the trunk to tie the two dogs with string, who instead dart out with enthusiasm and set off in search, making them lose their tracks. "Unfortunates! Damn you! " Alfonso yells. Our expulsion is in danger of going badly: the dogs would have made us run away all the foxes in the area! I could have said nothing to Alfonso: the energies at that age are certainly not like those of a young man! I hold back and say nothing: he is a person so much bigger than me. Nevertheless, the explosive passion for hunting does not make Alfonso retreat half a step: at his age he continues to wake up at dawn to patrol those beautiful places and to take care of his four-legged friends with love. Maybe that's also why my uncle takes him with him: a hunter of that age deserves respect and understanding. Alfonso, mortified, starts up a dirt slope on the trail of his dogs, apologizing hundreds of times. We just have to rely on Rondinella and his gang: we decide to continue in the opposite direction, along the sides of a hill of oaks and brambles. We advise our companion to keep his eyes and ears open, because the road on which he walks is parallel to our path and full of runners where the foxes jump ahead of the dogs later.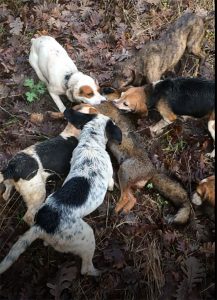 We lose sight of Alfonso and begin to beat the area waiting for the dogs to show us some scent. We walk the length and breadth of the small hill, until we reach the base of another cultivated hill. Not even a bark. We stop to wait for Alfonso who does not appear. Perplexed, we decide to continue the expulsion, until we receive a call from him on the phone: "This damned dog has climbed a tree 20 meters high! In seventy years of hunting, I have never seen such a thing "thunders Alfonso. We burst into a sea of ​​laughter. Samson looks at me and replies "Give him a blow and make him jump!". After joking, we reach him and Samson ventures an explanation of the strange case: the hound was followed by a fox that, agile and light, climbed on an inclined trunk and descended again passing from another tree.
When I reach Alfonso, I take off my belt and jacket and climb the tree to retrieve the frightened barking dog. The dog, however, is fearful: as soon as it senses that I am climbing it climbs even higher until it reaches the more fragile upper branches that cannot bear its weight. It falls from about twenty meters and makes a great thud on the mantle of leaves in the scrub. We think he is dead or at least he has suffered some fractures and instead he too shows all his great passion for hunting and starts again taking the pass of the fox. Samson was right, the fox has gone up and down from the trees, and immediately yells at me: "Go and post to the meadow at the bottom of the scrub, twenty meters from the trowels". Immediately I jump off the plant and run to where I was told. I'm waiting. I hear a very strong canizza: Rondinella has joined the hound on the tree in the sequel. Suddenly a fox appears about ten meters from a runner, I take the shotgun and fire the first shot, missing it. What a pan!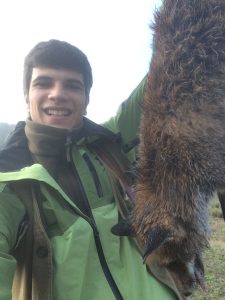 I then wait a fraction of a second for the game to slide to the right and show itself larger to the eye and I shoot a second barrel delivering a lethal blow. A day that was looming a great disappointment turned out to be comical and entertaining from a hunting point of view. I am still struck today by the perseverance of that dog who, having fallen from a height of at least fifteen times his body, went back on the trail of an unfortunate fox, making us succeed in the longed-for hunting action.
COMPETITION LITERARY CATEGORY - "Passion Hunt Goal"

Increase your chances of winning. Vote, Share on Facebook and Instagram and get your friends to vote.