You say Verdicchio and your thoughts immediately fly to the splendid Marche region, marked by rolling hills and the constant presence of the Adriatic. The territory is mainly mountainous and hilly with a thin flat strip along the coast. THEUmbrian-Marche Apennines in fact it is of great importance for the maintenance of a microclimate particularly favorable to viticulture, to which the constant ventilation from the sea. The soils are mostly limestone and karst (think of the Frasassi caves) or composed of clays and marls together with a strong presence of alluvial debris.
In this territory the Verdicchio grape has found its maximum expression. Its name is mentioned as early as the sixteenth century and derives from the typical greenish color of the grape which we then find in the reflections of the wine. Recent studies have shown that this grape is genetically identical to Trebbiano di Soave or Lugana o Turbiana grown in the provinces of Verona and Brescia.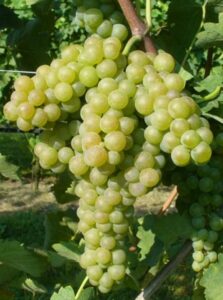 Il Verdicchio has enjoyed in the past a particular fame due to the large numbers produced and the iconic "amphora" bottle launched by Fazi Battaglia in 1953. Today the situation is evolving towards a progressive affirmation of small wineries, mostly family-run, where the constant search for quality and territoriality is preferred over quantity production. In particular, Verdicchio has become the protagonist of this small renaissance, in which we tried to rediscover its clear vocation as a wine of great structure, elegance e longevity, capable of giving quality and emotions even after several years in the cellar.
Il Verdicchio in fact it has all the credentials to be a great white wine, with an excellent one acidity and a notable one alcoholicity, qualities that allow it to develop unique organoleptic characteristics over time. There are two in particular the prestigious denominations present in the Marche region:
CASTELLI DI JESI VERDICCHIO RESERVE DOCG
DOCG active since 2011, it is a wine made from grapes Verdicchio for 85%, a more 15% of other white berried grapes grown in the region. At least 18 months of refinement of which 6 in the bottle. It is produced in the hills around the city of Jesi (AN), a unique territory that is positively affected by the ventilation of the nearby Adriatic Sea.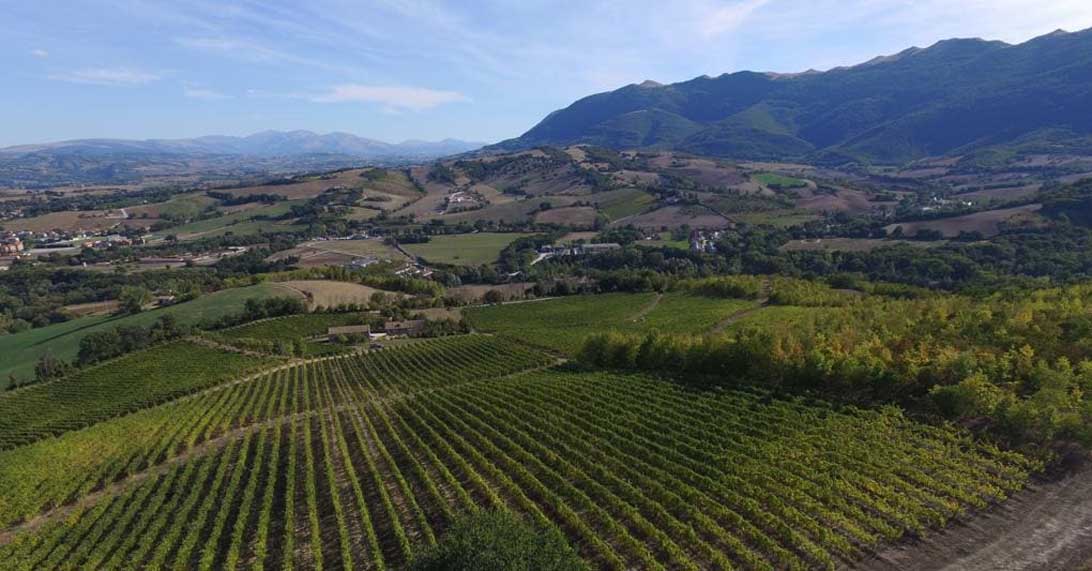 VERDICCHIO DI MATELICA RESERVE DOCG
DOCG recognized since 2010, the composition is the same as in the Castles of Jesi. Again they areat least 18 months of aging. Production limited to a few municipalities among the provinces of Macerata and Ancona (Matelica, Camerino, Fabriano…). Unlike Jesi, we are inwithin the region, close to the Apennines, in a elevated territory, cold and with strong thermal excursions. This favors the birth of a wine very structured, fine, fresh and with a predominance of acidity and less alcohol, Unlike Jesi which instead produces a more Verdicchio Mediterranean, salty and fruity. Likewise i land They are different, sandy and clayey in Jesiwhile a matelica dominates the flysch (sedimentary rocks stratified with marl, clay, sandstone). It should be noted that the consortium has recently decided to start the process to change its name. The mention "Verdicchio" will be removed and he will remain alone Matelica DOCG, in order to enhance the originality of the appellation and to tie itself more and more to the territory of which this wine is an ambassador.
Some labels for a first quality approach to the vine:
Verdicchio dei Castelli di Jesi Classic Reserve 'Canticle of Figure' Andrea Felici 2017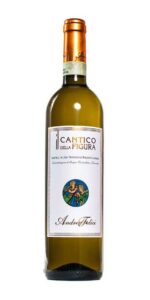 Rooted in the hills of Macerata and guided with great wisdom and care by Leopardo Felici, this small family winery of about 10 hectares has been active since the late 70s and produces one of the most iconic expressions of Verdicchio di Jesi. The "Cantico della Figura" is in fact a well-established and well-known label at national and international level which makes its great wealth and structure its main business card. The wine is produced only in steel and cement tanks, it ages for 12 months on the fine lees to give it greater complexity, then rests for 24 months in the bottle before being marketed. In particular, the color is a beautiful golden yellow while on the nose there are hints of great complexity, in particular of ripe yellow fruit, citrus and floral and vegetable scents of Mediterranean scrub really intense and pleasant, not least a note at the retro-olfactory level cream cake. In the mouth it has great body and character, an extremely fresh and lively wine, with sapid and mineral sensations in evidence, closing with a marked persistence that leaves the mouth deeply clean and satisfied. Perfect for pairing with cheeses (including aged) and fish, in particular fish soups.
Verdicchio di Matelica Riserva 'Mirum' La Monacesca 2011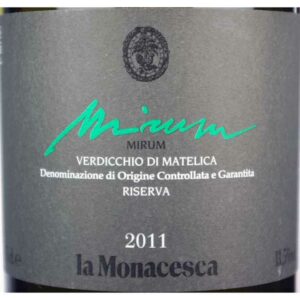 Company active since the end of the 60s, it rises in Matelica near what was once an ancient Benedictine monastery (hence the name). The owner Aldo Cifola leads the winery with great passion and attention to tradition. Over the years it has been able to bring Verdicchio di Matelica to one of its highest expressions, especially enhancing its elegance and longevity through the use of only steel tanks for aging and refinement (on fine lees). duration of 18 months. Even if we are talking about a wine that is now 9 years old on its shoulders, it still has a bright and bright color, the nose is followed by very fine mineral notes, almost like flint, followed by citrus hints (cedar and bergamot), ripe white fruit and pleasant balsamic / herbaceous notes (especially chamomile) as well as hints of honey and bitter almond, while in the mouth it is still dynamic, fresh and slender with a truly remarkable and clean persistence. Perfect match with local cheeses and cured meats, but also with white meats and fish.